When you come to Cyprus IVF Centre you'll meet talented experts who all love their work. Some are organisers. Some are problem solvers. Some are IT geeks and some are our medical brains. But each of them knows their stuff and will work to the best of their ability for you.
You may have heard about Team Miracle from a friend, on the internet via fertility forums or maybe through a Google search. However, regardless of how you arrived at this website, you will be wondering who we are.
Team Miracle is the result of 10 years of cooperation and teamwork treating over 12,000 patients as of 2018. We were the first organisation in Northern Cyprus to specialise in offering tailor made IVF treatment cycles for international patients. We have a huge level of experience within the industry and can help you through every stage of your fertility journey.
Team Miracle is comprised of six core members making up the coordination team and a wider workforce of doctors, nurses, anaesthetists, embryologists, biologists, genetic experts, laboratory technicians, chauffeurs, chefs and other support staff, who all work together to offer you a relaxing, problem-free treatment at Cyprus IVF Centre.
So let's meet the team…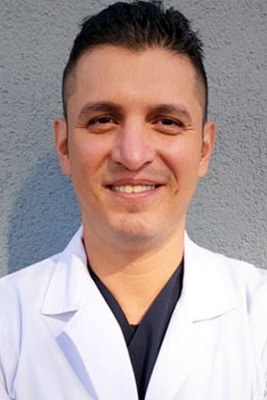 Erman Sever, Op.Dr
Gynaecology and Obstetrics – IVF Experts
Institutions Worked For
September 2011 – November 2011 | Kocaeli University Hospital,Kocaeli,Turkey
Department of Obstetrics and Gynecology, IVF Unit, Specialist Dr.
November 2011 – March 2014 | Sakarya Obstetrics, Gynecology and Children's Hospital,  
Expert Dr.
March 2014 – September 2017| Sakarya University Education and Research Hospital Sakarya, Turkey
Department of Obstetrics and Gynecology, Specialist Dr.    
September 2017 – January 2019 | Private Adatıp Hospital (Women's Diseases and Obstetrics Clinic
Chief, Specialist Dr.
January 2019 – July 2019 | Private American Hospital
IVF Training Program
February 2019 – July 2019 | Private American Hospital
Specialist Dr.
July 2019 – Current | Crown IVF Center
Clinical Vice President
February 2022 – Current | Cyprus American IVF Center
Clinical Physician
Expert Training
June 2006 – September 2011 | Kocaeli University Hospital,Kocaeli,Turkey
Department of Obstetrics and Gynecology.
Specialization Thesis: Chromosomal irregularities, k-ras and endometrial cancer prognosis of her-2 neu mutations and its place in aetiology.
Pre-Expert Training
1999-2005 | Hacettepe University Faculty of Medicine, Ankara, Turkey
GPA:3.5/5 | 2006 April TUS Exam 141st place in Turkey
1992-1999 | Sakarya Anatolian High School, Sakarya, Turkey
GPA:4.8/5
Post-Expert Training
2019 January – 2019 July | American Hospital Istanbul
Reproductive Medicine Education Certification Program
Personal Information
Born: 20 August, 1981
Marital Status: Single
Military Service:Exempt
Cyprus American Tup Baby Center Phone:+905428666004
Crown IVF Centre E-mail:dr.ermansever@gmail.com
Gazi Magusa
TRNC
Foreign Language
English:Advanced, YDS(2016):73.75 ,IELTS(Intenational English Language Testing System) Academic Module Exam Result:6.5, YDS 2016:73.5
German:Beginner level
Professional Associations and Organizations of Which He is A Member
-Turkish Gynecology and Obstetrics Association
-Turkish-German Gynecology Education, Research and Service Foundation
-Turkish Reproductive Health and Infertility Association
Publications
A) Articles published in international peer-reviewed journals
A-1) The relationship of urocortin-2 with insulin resistance patients having PCOS Muzaffer Temur, Özgür Yilmaz, Saliha Aksun, Mehmet Calan, Pelin Özn Özbay, Serkan Kumbasar,Erman Sever(2016) Gynecological Endocrinology, DOI: 10.1080/09513590.2016.124072
A-2) Maternal serum soluble CD40 ligand concentration as a predictor of preeclampsia at first trimester F. Hatiboglu, S. Kumbasar, B.A. Şık, E. Sever, M. Temur, S. Salman, Ö. Çot, A. Özcan, F. Yazicioglu. Clinical and Experimental Obstetrics & Gynecology (July 19, 2016)
A-3) Chromosome aberrations [dup(1q)] in endometrial cancer: Gene analysis of 54 surgical specimens in Turkey. Erman Sever, Emek Doger , Serkan Kumbasar, Bulat Aytek, Muzaffer Temur , Hasan Taylan Yilmaz , Ozgür Yilmaz , Pelin Ozun Ozbay, Izzet Yücesoy. Taiwanese Journal of Obstetrics & Gynecology 55 (2016) 357e362
B) Articles published in national journals
 B-1) Treatment with sotalolol in the non-hydropik fetal atrial flattered fetus. Serkan Kumbasar, Suleyman Salman, Ayse Ender Yumru, Pelin Dervishoglu, Erman Sever, Engin Aydin (JAREM ; – ) DOI: 10.5152/jarem.2015.723
B-2) Saline Infusion Sonohisterography in The Evaluation of Uterus in Infertile Patients Önder Aydin, Serkan Kumbasar, Suleyman Salman, Hale Akin, Ayşenur Kumbasar, Erman Sever (JAREM ; : -) DOI: 10.5152/jarem.2015.721
B-3) Diagnostic and Operative Laparoscopy: Experience of a Teaching Hospital Serkan Kumbasar, Hale Akin, Suleyman Salman, Ayse Ender Yumru, Erman Sever, Miracle Eri Özdemir (JAREM ; : -) DOI: 10.5152/jarem.2015.714
B-4) Cardiac troponin I level and effect of magnesium sulfate treatment on cardiac roponin I level in severe preeclampsia patients,Sisli Etfal Hospital Medical Bulletin(07,2016)DOI:10.5350/SEMB.20160107022316
B-5) Retrospective analysis of the factors that determine the success of single dose methotrexate therapy in ectopic pregnancy. Aytek Şık, Serkan Kumbasar, Erman Sever, Mustafa Deveci, Özgür Çot, Suleyman Salman, Yilmaz Güzel. Turk J Obstet Gynecol 2015;12:215-9.DOI: 10.4274/tjod.10576.
Congress and Course Participations
1.Fetal heart evaluation course,Turkish Society of Maternal-Fetal Medicine and Perinatal Medicine,April2010,Bursa,Turkey
2.TC. Kocaeli University Animal Experiments Local Ethics Committee Experimental Animal Use Certificate (May 31, 2010)
3.First 3 months screening test and fetomaternal risk determination. Turkish society of maternal-fetal medicine and perinatal medicine. (10 December 2010)
4.3. International Ankara Urogynecology Congress,February 2011,Ankara,Turkey
5.Applied pelvic anatomy course,February 2011,Ankara,Turkey
6.9.National Gynecology and Obstetrics Congress,May 2011,Antalya,Turkey
7.Innovations in gynecological laparoscopic surgery,Adana Numune Training and Research Hospital (24 February 2011)
8.4.Reproductive Medicine Association Congress. (26-29 September 2013,Antalya)
9.10.Turkish-German Gynecology Congress,April-May 2014,Antalya,Turkey
10.Laparoscopic and robotic surgery :Basic training and suturing. Tajev (May 2014)
11.Emergency Obstetric Care Clinician Training, Public Health Institution of Turkey (17-19 November 2014,Ankara)
12.Occupational Health and Safety of Employees (SEAH 21-22.10 2015)
13.7.National Urogynecology Congress (14-17 October 2015)
14.Ovulation Induction Course.BAU Faculty of Medicine (January 9, 2016)
15.11.Turkish German Gynecology Congress. (11-15 May 2016,Antalya)
In the 16th century, the 19th century Middle East Fertility Society Congress (2-4 November 2021, Dubai)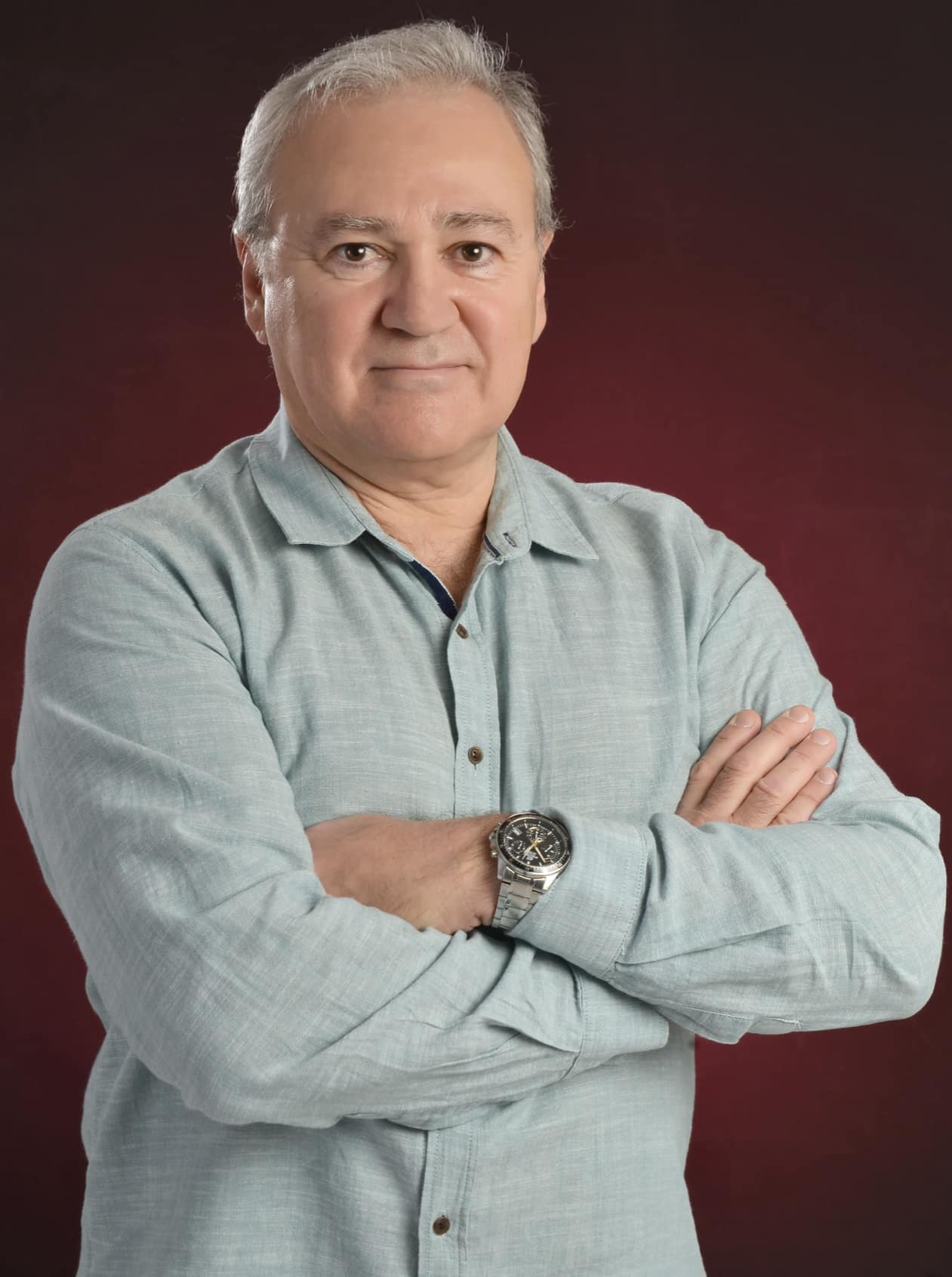 Tolga Tuna, Op. Dr.
Gynaecology and Obstetrics – IVF Experts
I was born in 1963 in Nicosia, Cyprus. I completed my medical doctorate education at Cerrahpaşa Faculty of Medicine. I became a Gynecology and Obstetrician in 1993. After 6 months at Westminster Hospital (England, London), he returned to Istanbul and started working as a specialist in a private hospital. I founded my own center in 2003 and focused my studies on infertility treatments and IVF. In 2010, He finally received an IVF certificate with Prof Dr Semra Kahraman at Şişli Memorial Hospital IVF Unit. He returned to Cyprus in 2012 and continued to work as IVF Director in Nicosia.
Mr. TARKAN ÇEVİRGEN
Head Embriyologist
Tarkan Cevirgen was born in Mersin , Turkey in 1976. He received B.Sc. degree in Biology from Hacettepe University, Ankara, in 1998 and M.Sc. degree in Immunology from Medical School of Hacettepe University in 2005. He received Embryology certificate from Ministry of Health in Turkey in 2008. He worked as a director of embryology laboratories in Nisan Kavaklidere in Ankara in 2010, Anadolu Hospital in Antalya in 2012 , Gynolife IVF Centre and Kolan British Hospital in Northern Cyprus in 2014 and He is a member of ESHRE since 2010.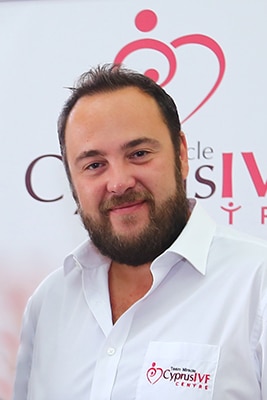 Mr. Ümit İNAK
Managing Director and Senior International Patients Coordinator
Ümit is our bilingual Patient Liaison as well as being our general "Mr Fix It". Ümit is the main contact for patients while they are in Cyprus. His responsibilities include meeting patients on their arrival and guiding them through each stage of their treatment. He provides educational information in conjunction with the doctors relating to treatments, procedures, medication and continuing care requirements. He will provide patients with updates from the embryologist regarding egg quality, fertilisation rates and embryo numbers.
Ümit ensures that each patient receives the best service possible by completing patient rounds, documenting care, providing full explanations of each step and outcome of the treatment at Cyprus IVF Centre. Ümit also collects information provided by patients regarding their care, administration and patient satisfaction and communicates this information to the appropriate departments within Cyprus IVF Centre hospital.
Ümit grew up in Istanbul, Turkey before moving to North Cyprus for university in 1997. He graduated from the faculty of Communication & Media Studies, Public Relations & Advertising department in 2001. Ümit moved to New York in 2001 after being head-hunted by a top advertising agency. In 2005, Ümit returned to North Cyprus and he became a member of Team Miracle in 2008. Ümit is fluent in both Turkish and English and he will help you through every minute of your time in Cyprus. He deals with a huge variety of things: from airport transfers to medication deliveries to requests for extra pillows at the hotel! Ümit is based at the hospital and you will meet him along with Hakan at your appointments.
Experience and Education
2015 – Present | Cyprus IVF Centre
International Patients Coordinator and Patient Liaison
2010 – 2015 | Dogus IVF Centre
International Patients Coordinator
2005 – 2010| Nike Stores Cyprus
General Manager
2001 – 2005 | SweetFace Fashion by Tommy Hilfiger and JLo
Marketing Executive Assistant – New York, NY, United States of America
1997 – 2001 | Eastern Mediterranean University, Famagusta, North Cyprus
Bachelor Degree in Communication & Media Studies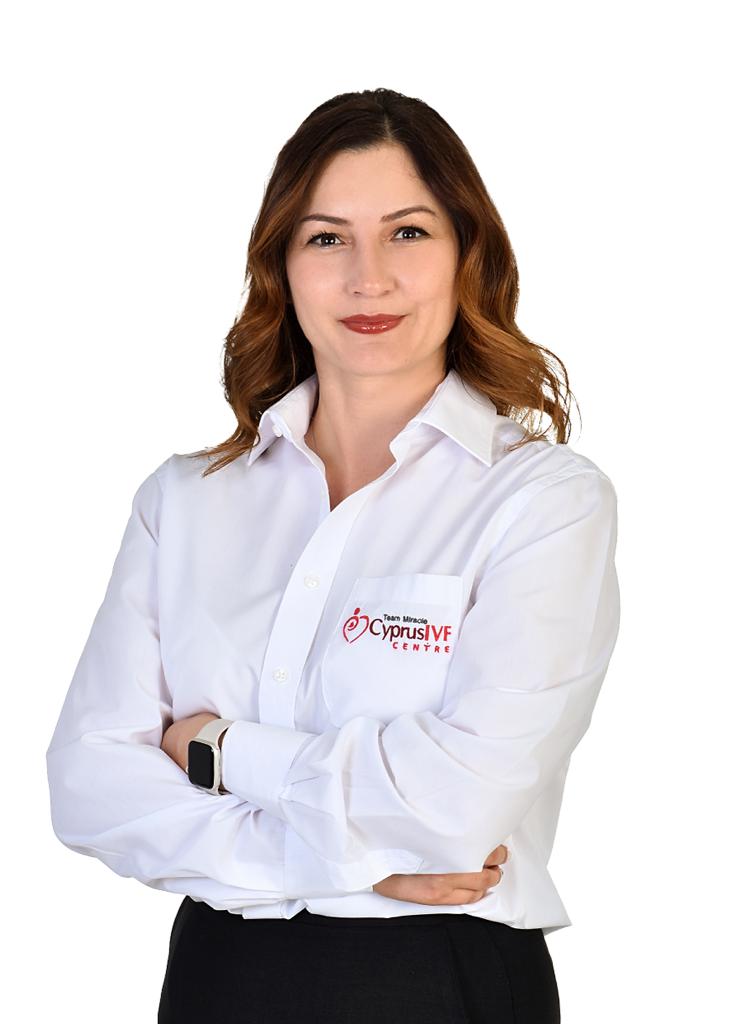 Hanze INAK
Administrative Affairs Manager
Hanze Inak completed her education at the Eastern Mediterranean University, Department of Information Technologies, and started her career in 2008 as Embryology Assistant. She then worked as Accounting staff, Director-Center coordinator and Hospital Manager. Hanze Neara, who is competent in English, performs patient-doctor relations in a fast and reliable manner while ensuring a comfortable work environment for patients and doctors with her solution oriented approaches.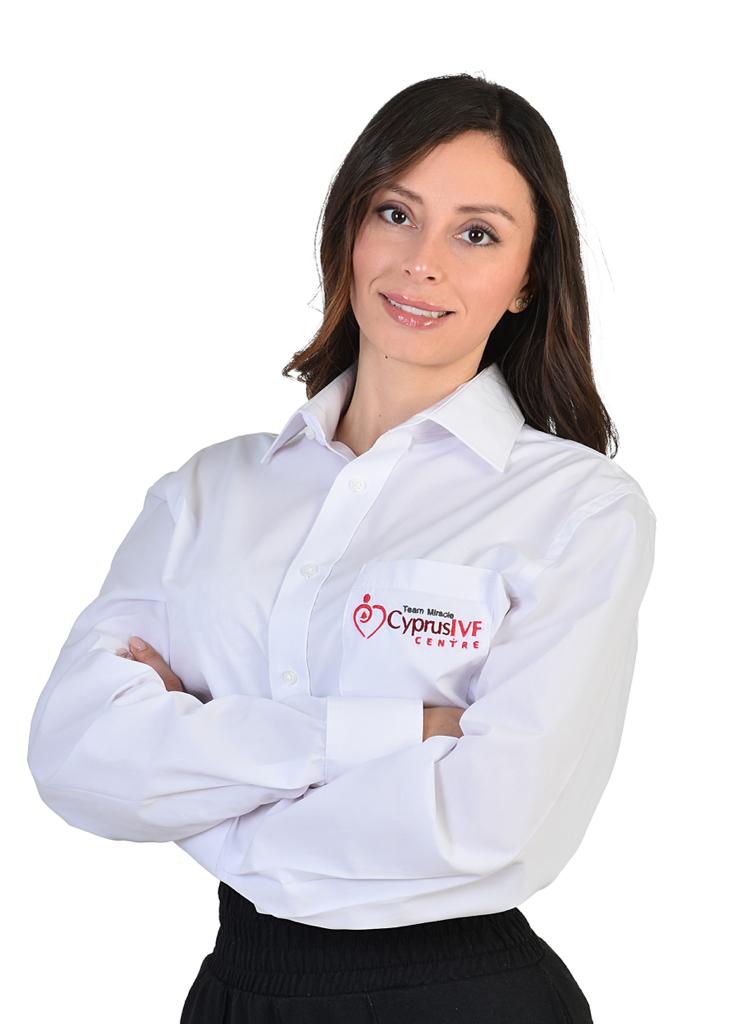 Ibanna Rosado
International Patients Coordinator
Ibanna Rosado has 6 years of experience within the IVF sector. Over the years she has developed knowledgeable skills in patient communications. Her expertise in specific has been to provide patients with all the information they need, to help them further proceed down the process it takes to achieve their fertility needs. Foremost, she knows the importance of assistance between patients and clinical staff. She has worked in areas that pertain data entry, telecommunications, and customer services prior to IVF patient coordination. Ibanna started her IVF career path along side a few well known fertility specialists and has helped many diverse international patients prior to join the Team Miracle.
She is fluent in English, Spanish, and Turkish. With hopes to learn another language such as Italian. Ibanna has been living in Cyprus for some time but is Puertorican American and grew up in the USA. She is a mother and loves to dance. She has learned a lot about Cyprus and the Turkish culture and will be more than gladly to answer any questions, as well as find your answers!
Seda Mahir – International Patients Coordinator
Seda Mahir is a pharmacist and one of our patient coordinators in Team Miracle. She completed Master of Pharmacy in University of Bath, United Kingdom. Seda has many years of experience as a pharmacist in the largest leading pharmacy chains, Boots and Lloyds in the UK. She is experienced in consultation providing variety of services such as medicines use review and treatment for minor ailments. She will welcome and assist you at the hospital during your appointments, making sure you understand your treatment and medication. She also provides information such as the test results and embryology reports in every step of your protocol. Seda was born in Cyprus and is fluent both in English and Turkish. She is happy to answer any of your questions, give tips on best places to visit throughout your stay and make sure you receive the best care in Cyprus!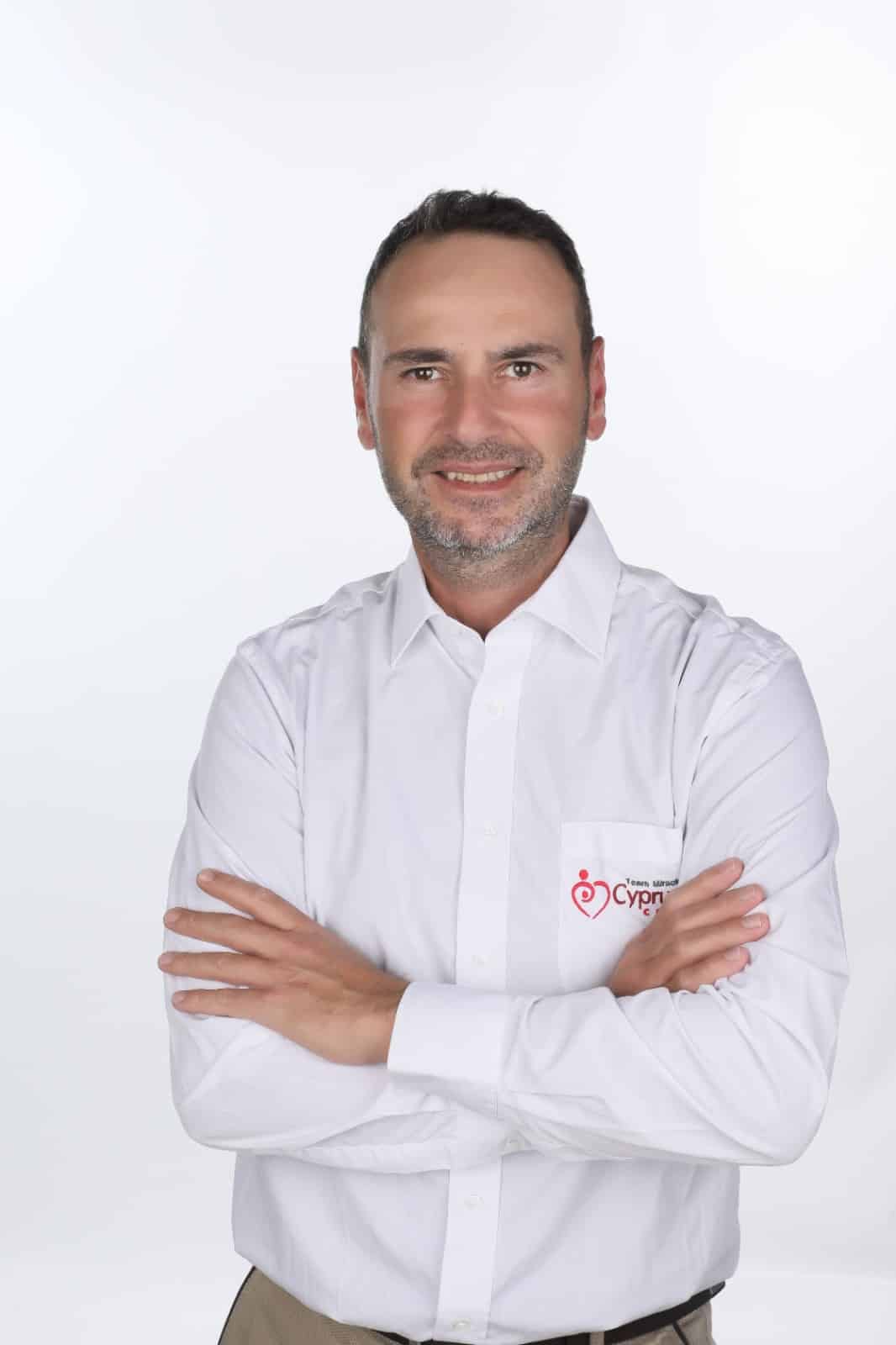 Cansen INAK
Patients Coordinator
Cansen İnak studied business administration and started his career in 2007. He has been worked for the service industry 16 years and he teaches tennis in his free times. He is been a member of Team Miracle for 2 years. His responsibility in the team is arranging all accomodation, medication and taxi transfers. He will welcome you at the clinics and will inform you about your treatment with forms before you leave Cyprus.
Cansen was born in İstanbul at 1976. He is married and have twins.