Each stage of our IVF treatment at the Cyprus IVF Centre comes together to form a painstaking process. Team Miracle work closely together as a unit using their different skills to build an excellent team, experienced in all aspects of IVF treatments. We are very proud to have one of the highest success rates in our field, due to both excellent staff and facilities.
But no matter how well the Cyprus IVF Centre is doing, sometimes there are new developments which indicate that even further successes can be found. EmbryoGen is one of these developments and this worldwide market leader in embryo development has recently come into use at our clinic.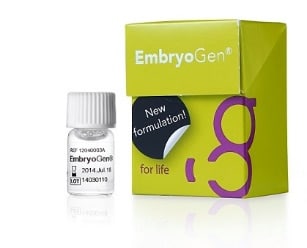 What is EmbryoGen ?
Put simply, this is a new medium which mimics the natural lining of the uterus. It allows us to ensure that the embryo is cultured more carefully in as natural a procedure as possible, before being transferred to the mother. Some patients face a more challenging process than others on their IVF journey to pregnancy and EmbryoGen is designed to help that process along as much as possible.
Testing this product was one of the world's largest IVF trials, involving 1400 patients across 14 clinics. It is used for the culture of embryos from the cell 2-8 stage.
How does EmbryoGen actually work ?
Here at the Cyprus IVF Centre, Team Miracle use EmbryoGen to stimulate the natural embryo cell growth. When a woman is in early pregnancy, her uterine tissues produce a signalling molecule called GM-CSF. This naturally occurring molecule is contained within EmbryoGen, which means that the embryo gets extra support in the early stages of growth and firm implantation is encouraged in mother's uterus.
How is EmbryoGen different to the standard IVF treatment ?
It isn't a different treatment, IVF still goes ahead in exactly the same way. It simply augments the traditional process. If Team Miracle decide that the use of EmbryoGen is appropriate, we will culture the embryo in EmbryoGen before it is transferred to the mother's uterus. When this happens it will be transferred with a small amount of the EmbryoGen product. This allows for a more natural, undisturbed process because the embryo does not need to be swapped from one medium to another.
Can anyone have the EmbryoGen treatment ?
Potentially, yes. If you are undergoing traditional IVF treatment in Cyprus then EmbryoGen can be used. However, it is indicated more often in some cases than others.
Who is the use of EmbryoGen most recommended for ?
IVF treatment can fail for a number of different reasons. Sometimes the embryo doesn't implant, sometimes it implants but fails to stick and sometimes women have suffered a chemical pregnancy. When there is repeated implantation failure, recurrent early pregnancy loss or simply unexplained infertility, this is when EmbryoGen can really make a difference. It can create an environment which is very similar to the uterus in which the tiny embryo can grow before it is transferred. It acts as an extra layer of encouragement for the embryo. And by continuing its use into transfer, there is minimal disruption to the embryo or its environment which allows the best chance for implantation.
How can I decide whether EmbryoGen is right for me ?
Team Miracle at the Cyprus IVF Centre have a wealth of experience in advising on the right treatment for the patient. We can assess and guide you through what treatments may be the best ones for you, and discuss all of the implications. As a rough guide, if you have suffered repeated early pregnancy loss, or you simply have unexplained infertility, then the use of EmbryoGen may be recommended.
Some clinical studies suggest that with the use of EmbryoGen there is a 44% increased chance of success.
This represents one of the most exciting advances in IVF in recent years. It will be a long time before EmbryoGen becomes a standard treatment, however at the Cyprus IVF Centre, Team Miracle are constantly searching for the very newest, most innovative treatments so that we offer a top quality level of service to all of our patients.
If you think that EmbryoGen sounds like it might be suitable for you, then don't hesitate to contact our team at the Cyprus IVF Centre today. We would be delighted to discuss your individual circumstances, and find the best way forward to pregnancy for you.